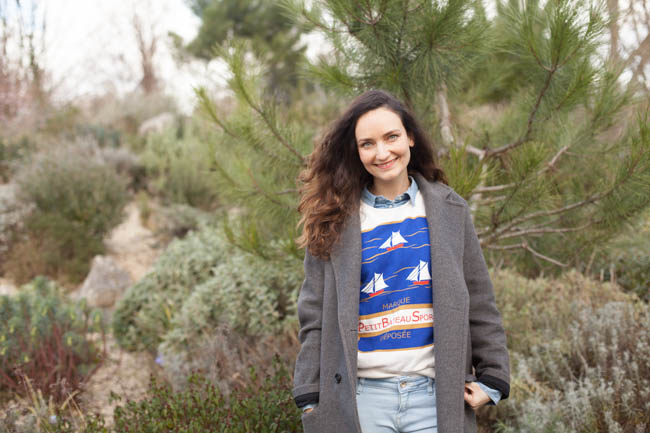 manteau: Isabel Marrant x H&M, écharpe: Zara, sweatshirt: Petit Bâteau, chemise: Lee, jean: Zara, basket: Van's
J'ai de la chance, je suis maman pile au moment où la tendance est au sportswear. J'avoue que ça m'arrange de privilégier le confort en ce moment. Côté look, j'ai besoin d'aller vite et c'est vrai que être à plat est un must. Du coup, le combo sweatshirt / baskets est devenu mon uniforme du dimanche, même si je sais que associer les deux peut vite virer en mode "salut j'ai 12 ans et je reviens du collège".
Pour la balade dominicale, j'ai donc enfilé mes vans tigrées et mon sweat Petit Bateau que j'adore. J'ai vu qu'il existait aussi en t-shirt et je pense que je vais craquer pour cette version estivale également. Depuis que je vais chez Petit Bateau pour le baby, je suis agréablement surprise par les vêtements pour adulte. Kitsuné est aux commandes, et c'est vraiment top! J'aime beaucoup aussi le sweatshirt pour homme qu'ils proposent actuellement!
Et mon sac? Je ne vous ai pas encore parlé de mon sac! Sachez que ce magnifique sac à main en cuir est en réalité… un sac à langer! Oui oui vous avez bien lu, un sac à langer avec tous les compartiments à l'intérieur pour les couches, biberon, crèmes, changes et autre et que je trouve tellement pratique et beau, que je ne le quitte plus! Il vient évidemment de chez émoi émoi, le concept-store en ligne qui propose des vêtements et accessoires pour femmes enceintes au top!
I feel lucky , because I became a mother just when sportswear is fashionable. I admit that it suits me to favor comfort at this time. I need to go fast and not wearing hills is a must. The combo sweatshirt / sneakers became my Sunday uniform, even though I know that combining both can be dangerous (in the » hi I am 12 years old » kind of way).

For the Sunday walk, I am wearing my vans and sweatshirt Petit Bateau that I love. I saw that there was also a T-shirt version and I think I'll fall for it as well. Since I go to Petit Bateau for the baby , I am pleasantly surprised by the clothes for adults. Kitsuné is in control, and it is really great!

And my bag? I have not spoken about it yet ! Know that this beautiful leather handbag is actually … a diaper bag ! Yes yes you read correctly, a diaper bag with all the compartments inside for diapers, baby bottle , creams, baby clothes… I find it so practical and beautiful, I am not leavingit ! It is obviously from émoi émoi, the online concept store  that sells beautiful clothing and accessories for pregnant women!