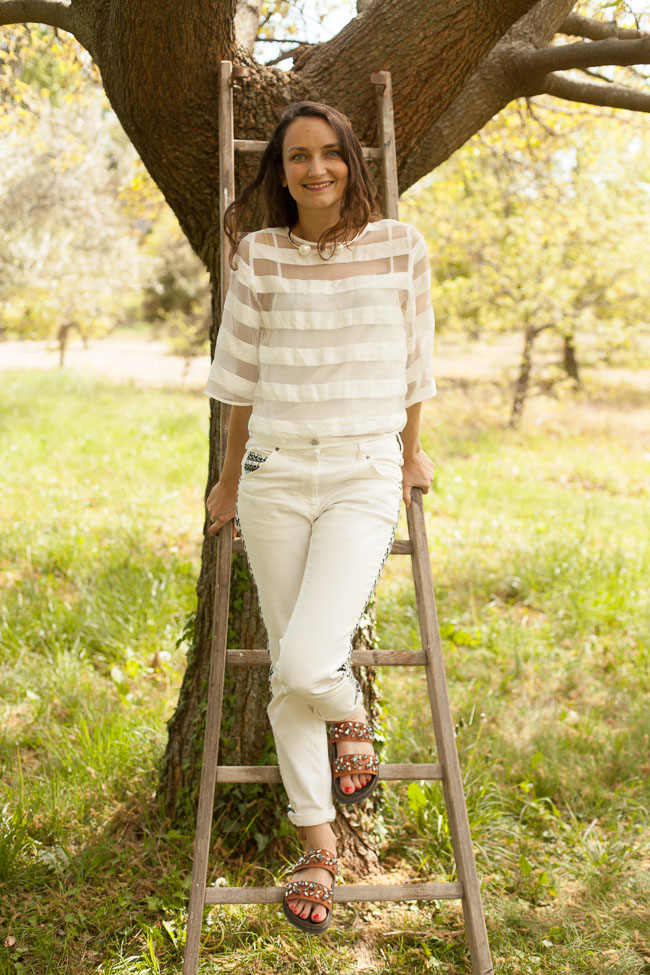 L'autre jour en allant chez mon frère, un trentenaire m'ouvre la porte de l'immeuble: moustache effilée, t-shirt en mode normcore et claquettes adilette dans des chaussettes.
Au lieu de me dire « c'est dingue on dirait que le mec s'est cru au camping ! » je me suis dit « c'est dingue le mec cumule toutes les tendances du moment ».
Et c'est là où l'on se dit que les tendances actuelles sont un peu bizarres, non?
Bref, tout ça pour introduire le sujet du jour.
Les sandales de l'été.
Vous avez remarqué vous aussi ? Que les sandales ont toutes un côté « birkenstock »?  J'ai craqué sur une version girly, voir bling bling avec strass à outrance de chez Zara qui me plait beaucoup.
Et finalement je trouve que ça passe plutôt bien avec une tenue toute sobre. Là j'ai tenté le blanc avec du blanc, autre grande tendance du moment que je trouve très agréable et estivale.
Les photos ont été prises pendant notre séjour en Provence d'où ce petit côté bucolique… En revanche, vous excuserez ma petite mine, elles ont également été prises après une nuit d'otite intensive de mon baby!
Bonne journée!
The other day I was going at my brother's. A thirty  something guy opens the door of the building: he had a mustache, an average t-shirt and was wearing adilette in socks. Instead of telling me « it's crazy it looks like the guy is going camping! « I said to myself » this guy combines all the fashion trends of the moment. « And this is where you realize that current trends are a little weird, right? All that to introduce the topic of the day. Sandals. Have you noticed as well? The sandals all have a side « birkenstock » side this summer? I bought a bling bling version at Zara that I love. And finally I think it goes pretty well with a plain outfit. Here I tried white with white, another big trend of the moment that I find very nice to wear. The photos were taken during our stay in Provence. Pardon my tired face, my baby had been sick all night… Good day!
sandales: Zara / collier: Zara / jean: isabel marant x H&M / top: H&M / bague perlisienne: Padam Padam Paris / bague anneau: H&M